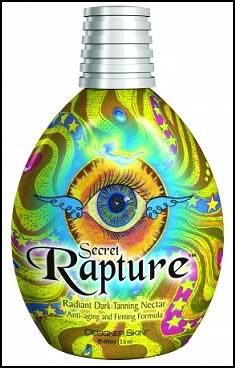 Type: Intensifier
Extras: Anti-Aging and Firming Formula
Scent: Warm Vanilla Sugar
Size: 13.5 oz. Bottle / 0.5 oz Packette

Pure, tanning ecstasy. Spectacular, bronze bliss. Are you ready to be transported to paradise where stunning, bronze color and gloriously silky skin go hand in hand? Secret Rapture® is an exquisite, dark tanning blend that delivers dramatic tanning results. Powerful anti-aging and firming ingredients pave the way for this stairway to tanning heaven. Indulge, revel and experience the Rapture. Shhhhhh! It will be our little Secret.

• Enriched with Vitamins A, E, C and Avocado Oil
• Phytoage and Alpha Lipoic Acid provide powerful anti-aging benefits
• White Birch Extract & Copper PCA visibly improve skin's firmness and texture

It's true: not all indoor tanning lotions are created equal.
One of the most important tricks to tanning is finding the perfect base tan builder when you first get started at your salon. So far my favorite is
Designer Skin's Secret Rapture
. It is designed as a base-building lotion that helps build a super dark tan on fair skin and helps those of us who do not tan easily.
Secret Rapture has added Vitamins and Avocado Oil for soft, supple and moisturized skin. This helps a great deal considering well-moisturized skin tans much nicer than dry skin does. It also has powerful anti-aging agents as well as White Birch and Copper PCA for a boost in your skins firmness. I especially love this for my legs.
I was able to find a 13.5 ounce bottle of this tanning lotion for $20 (including shipping) on eBay - brand new and sealed. On eBay you can find a sample packette for around $5. My tanning salon retails this bottle at $45 with a sample packette being $8.
The Warm Vanilla Sugar scent is light and smells great when first applied. Some lotions can leave you smelling burnt after a nice, long tanning session. This fragrance only enhances with the heat and develops a warmer, more potent Sugar scent. It is perfect if you have to head straight from the salon to work or out. You will smell delicious!