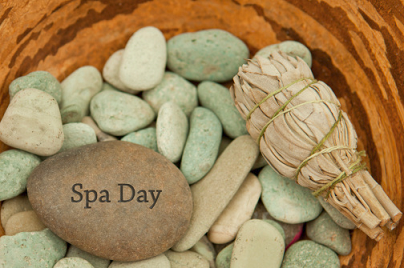 Every once in a while, a girl needs a good - IE
expensive
- spa day. And I treated myself to one today.
The weather is completely uncharacteristic of the usual cold and rainy March days we are used to here in Chicago. I've taken full advantage and spent my afternoons laying outside soaking up the sun. After a winter that seemed to last forever, I forgot how good it feels like have the sun shining on your skin.
Since I have my second date with Mr. Chef tomorrow, I decided to expand on my darkening skin and get a massage, a pedicure, fill in my 2-week grown-out acrylics, and get my hair done. It was a busy day, but a good one none-the-less. Keeping up on your appearance seems so tedious when you devote an entire day to it.
I've still been talking to Mr. Chef through text constantly the past few days. He's pretty sweet and I must admit I'm loving the attention and knowing that he's constantly thinking of me. I'm still worried he is either suppressing his want of a more serious commitment or he hasn't exactly realized what he wants. He has made a few more questioning comments, being amongst those he keeps suggesting we go to his parents pool or out on his boat with his brother.
I said I wanted a fun, carefree, non-committed relationship, didn't I?! This, to me, means no contact with each others families. I will admit I just ignored those suggestions. He did also say his interest in me was "almost out of control". What does this mean exactly, Mr. Chef?
Pending the weather, Mr. Italy and I are planning on going for a ride on his new Ducati at the beginning of next week. I still have my reservations about him. Only time will tell.